"The Coach House"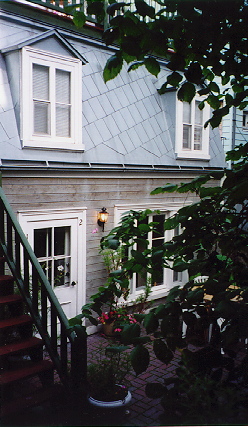 Why renting a simple room when for the same price you can have a complete apartment or coach house...
Located in the heart of Old-Quebec "La Maison du Cocher" is offering fully furnished historic style apartments as well as a unique coach house featuring antique stone walls, fire places and a garden terrace. Your stay will be quiet and extremely private.
There are all the comforts of your own fully equipped kitchen, if you decide to prepare your own meals. During your stay if you prefer restaurants, they are all at your door's step.
Most bedrooms overlook the garden terrace surrounded by an eight foot high stone wall with access to the roof top sundeck.
In many bathroom you will find an antique bath tub on a marble floor.


It is possible to have up to 6 people sharing the apartment.
There is no charge for children under 18 years old.If you have a baby, a bassinet, high chair and a stroller are available. You will have full access to laundry facilities including iron and ironing board.


To enjoy the ambiance of Old-Quebec , museums, restaurants, cafés, terraces and clubs are all within walking distance.

If needed, a WiFi network is available to access internet services.
Parking is available close by. If you have to drive, here is a litte map to help you find the place
La Maison du Cocher, unique and intimate...
All units have air conditioned during the summer
A house at a room's rate

To visit a unit click on the link

Contact us to know how much it is going to cost you:


Vieux-Québec
G1R 3W7